New U2 POP Funkos
Original Story by Aaron J. Sams (2023-04-19)
A new set of U2 Funko Pops is expected this year. This time out it's another four pack of U2 figurines, this time celebrating the Pop era of the band. (Note on dates, last time around they were delayed several times, so this may change.) The set will be part of the Pop Albums Deluxe line of figures, and will be released at the same time as a set of Soundgarden figures celebrating Badmotorfinger. The UPC for this set is 889698673914. These album sets usually retail for around $70 US. Although listed with a June release date, we expect these will not be launched until November. We will share more information when these are officially announced.
The four-figure display case will include the four figures backed by a fake album, and sitting next to a replica of the album cover. The display case for these sets is approximately 21.9cm x 8.2cm x 45.7cm in size. (8.65"L x 3.25"W x 18"H) The vinyl record is a replica and cannot be played.
A new set of U2 Funkos celebrating the "Pop" album are coming this year. More information: https://t.co/kHXv8oc8NO pic.twitter.com/ma5e21APox

— U2Songs.com (@u2songs) April 19, 2023
Previously U2 released a series of Zoo TV themed Funko Pop figurines in late 2022 including:
Bono
Adam
Larry
Edge
Bono in a Trabant
4-Pack of Bono, Adam, Larry, Edge
Zoo TV Stage with Bono, Adam, Larry, Edge (With differently posed figures)
For those who don't know what a Funko Pop! is, they are plastic toy figures with small bodies and exagerated heads. The heads are square in shape with rounded edges, button eyes, and usually no mouth. Standard figures are about 4-inches tall. There are over 25,000 items available in the line, including figures from music, movies, television, British royalty, comic books and Pop culture icons.
These new Pop figures have not yet been announced by Funko, expect an official announcement soon.
The new set recreates the 1998 promotional poster for the PopMart tour, seen below, with similar outfits, and poses.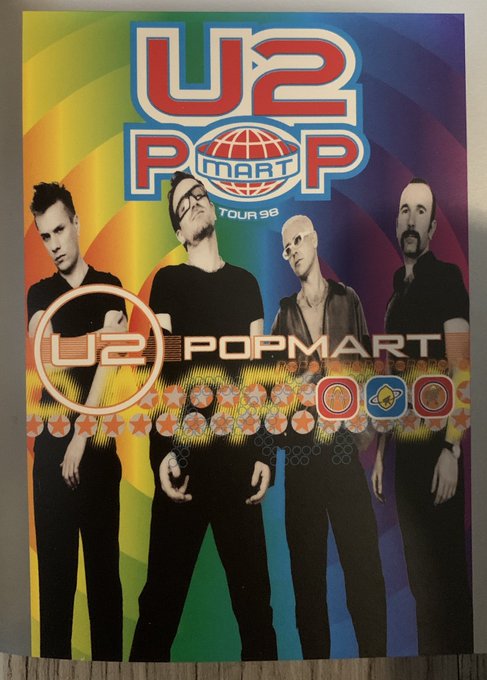 < Next News Entry | Previous News Entry >
u2songs.com was formerly known as u2wanderer.org. Follow us on Twitter | Facebook