U2 Recording / Filming in London
Original Story by Aaron J. Sams (2017-07-11)
Update: U2 was filming at the Groucho Club, in Soho. Their location was confirmed by the exit by which they left, and it now appears that they were indeed doing a interview, with Zane Lowe, which will air Thursday at 11AM (Los Angeles), 2PM (New York City) and 7PM (Dublin) on Beats1.com. This is confirmed by a photograph of the full band with Lowe taken inside the Groucho Club.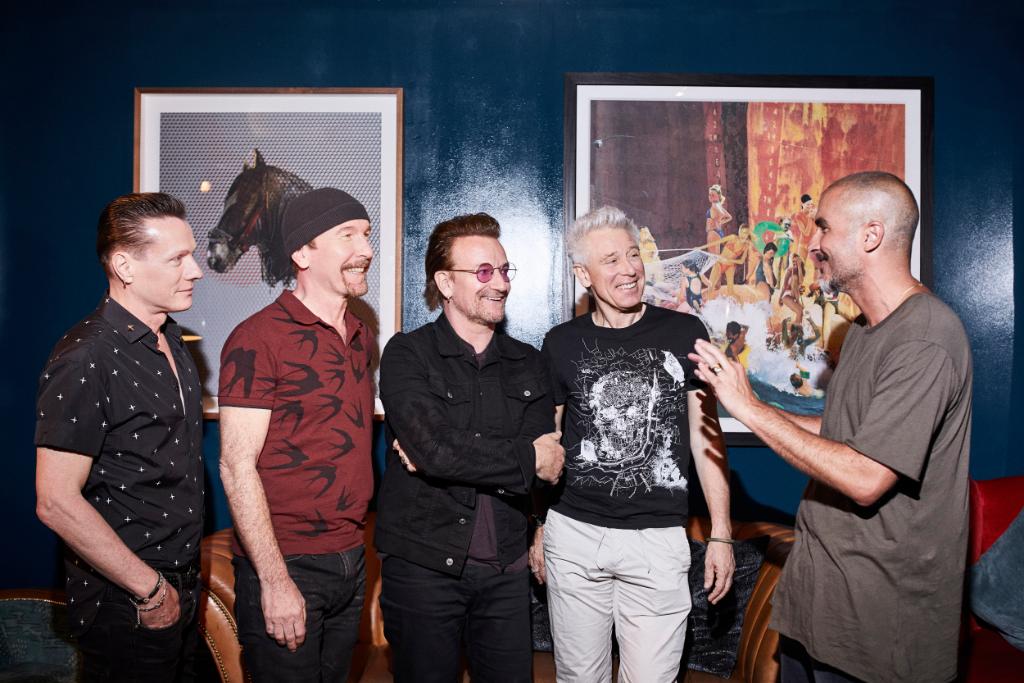 Original story below:
Yesterday there was some buzzing about U2 working at a Soho location in London, with a film crew. A photo showed a truck full of (presumably) film equipment being used for this shoot, outside a cafe called "Joe & The Juice."
#U2 spent evening working at Soho location in London with a filming crew (pic by Astrid_Hofer</a>) <a href="https://twitter.com/U2">u2 #u2songsofexperience #U2JoshuaTree2017 pic.twitter.com/nxJcdpJHr6

— U2enEspaña (@U2enEspana) July 10, 2017
The store can be seen at the corner of Dean Street and Old Compton Street in London. A little further digging turns up another interesting location at the corner of Dean Street and Old Compton Street. At 59 Dean Street is the Dean Street Studios. The recording studio is a recording studio with a long history, where music legends such as David Bowie, T. Rex and the Moody Blues have recorded. In more recent times the studios list Lady Gaga, Noel Gallagher, and Ed Sheeran as clients.
The studio started as a film studio in the 1950s, and later became Zodiac Studios. In 1976, producer Tony Visconti bought the studio and the name was changed to "Good Earth Studios". And that name may ring a bell to you. U2 worked with producer Tony Visconti in the very same studio in 1984. In November of that year they worked with Visconti on the live versions of two songs, "Bad" and "A Sort of Homecoming" that would appear on the EP Wide Awake in America.
Looks like a bit of studio time, with a film crew was in order. Perhaps filming some behind the scenes style promotional footage that was used extensively for the last album? We saw in studio footage of the album being made, but we also saw a full length promotional clip for "Every Breaking Wave" done at Metropolis Studio in London for promotion for that album.
Thanks to Dan B. for lending us some maps and a compass.
< Next News Entry | Previous News Entry >
u2songs.com was formerly known as u2wanderer.org. Follow us on Twitter | Facebook